If we thought Week1 of #FridayFotoFiction was fun, Week2 surprised us by being even more so! It was interesting to read varied thoughts making up the entries for the same prompt. Tina and I decided the winner individually and when we matched notes we were pleasantly surprised to see the same name; Preethi Venugopala your take on the prompt blew us away!
Congratulations, Preethi!
PhotoPrompt for Week 3
Straight
Avik sat in the dimly-lit room, staring mesmerized at the sliver of sunlight that came in through the window. How the dust motes did a happy dance for that brief second when they reached the sunlight before disappearing into oblivion. He never took his eyes off them because if he did the small room began closing in on him, the ammonia fumes of urine had him gasping for breath and as the rough jail blanket bit into him Avik once more recalled his wise father's words, 'Always follow the straight path son, no matter how long and difficult it maybe'.
How to participate in #FridayFotoFiction
Every Thursday we'll give you a photo prompt
Follow @twinklingtina & @Mayuri6 on Twitter and wait for the prompt
Write a 100 Word story relevant to the photo prompt
Use the badge at the end of your posts
Link up with Tina or Mayuri
Read, comment, share on host and co-hosts posts and at least two more posts linked in the party Pro Tip – Networking and commenting is good for your blog's health and ranks.
Use #FridayFotoFiction in your post and share on social media using the same hashtag.
Every week we will have one featured blogger who is the best reflection of this community spirit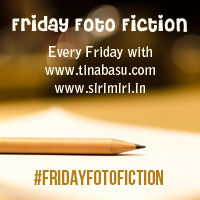 Add your Linky's here